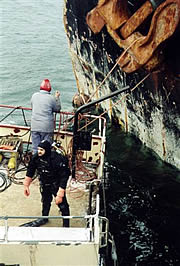 About 
J
UPITER
  S
HIPPING
  S
ERVICES
  L
TD.
Jupiter Shipping Services based in Gdynia and Gdańsk was established in May 1991 by Zygmunt Pastwa and Andrew Kapturek.
The vision of the founders was to create a strong shipping agency to rendering all kinds of various agency services for vessels calling to our ports and crew supply for big recognized Owners and not only, which has came true and being continues to present day. For the last couple of years we are providing the repair squads like fitters/ welders / painters / sandblasters to carry out the jobs during vessels operations at sea and in ports as well as we the crane-drivers teams for discharging operations in European and world-wide discharging operations.
Our main office id located in Gdynia where are working English speaking staff who are available to start cooperation with new clients who are always welcome.
We are members of The Polish Ship Agents and Broker's Association in Gdyniasince the beginning of our activities and you can find us in The '' Blue Book '' The Shipbroker's Register.
Please do not hesitate to contact us at any time if you have some queries and we will be pleased to serve you.